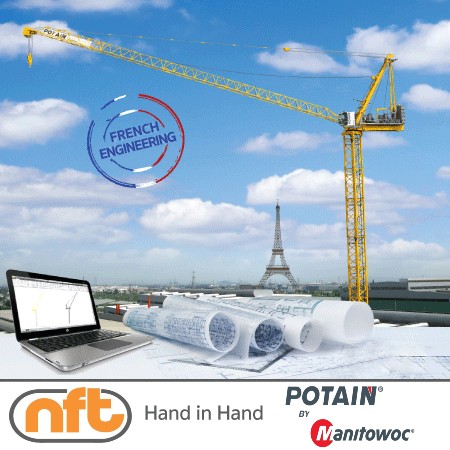 NFT is the sole distributor for Manitowoc (Potain - Grove - Lattice Boom) tower cranes and crawler cranes for the GCC and the Middle East as a whole.
Founded in 1928 in La Clayette (France), the Potain company has since imposed itself in the construction sector as a leading tower crane provider with manufacturing plants in France, Italy, Portugal, India, to name a few. Potain tower cranes can be found operating on the most prestigious construction projects in the world
Potain cranes are used not only on "regular" construction sites but also on more technical ones such as dams, power/nuclear plants or bridges construction sites.The high quality make and exceptional reliability of the Manitowoc cranes is also translated into one the best fixed-asset depreciation rate that can be found on the international construction market. 30 or 40 years old cranes can still be found operating on some construction sites.
Potain literally proposes "a crane for each usage" with more than 60 models available and to choose from, depending on your technical requirements. Each of our client is unique and therefore has unique needs. We will help you take up new challenges thanks to the high flexibility of our Potain tower cranes.
Second hand Potain:
A Potain crane is an investment because of its guaranteed resale value. The brand name itself is well recognized by customers worldwide. In addition, the manufacturer guarantees the availability of Potain parts for all cranes, even those that are more than twenty years old! The well established Potain Second Hand crane market gives the highest residual value for the crane.
Potain Innovations
Frequency control variation
Control of the jib lifting and orientation

Adjustment of the lifting and orientation speed based on external factors analysis (such as weather conditions) to ensure homogeneous and accurate movements of the crane

Computerized data calculation

Multi-engines control

Diagnosis tools with keyboard and screen to facilitate operator's work
Potain masts
Several masts lengths are available, depending on client's requirements : 10m quick assembly/disassembly masts , telescoping masts,

3-5m height adjustment masts depending on the crane model

Quick, easy and silent assembly/disassembly thanks to pinned masts

Secured and comfortable inclined access to the cabin for the operator (through ladders)
Ultra View Cabin
Ergonomic and comfortable operator's cabin : Adjustable seat, reversed AC, windscreen wiper, sunshield

Optimum visibility thanks to see-through floor, roof and door as well as curved windows in the front and side of the cabin

Easy cable winch monitoring at the backside of the crane thanks to see through window
Potain Cab-IN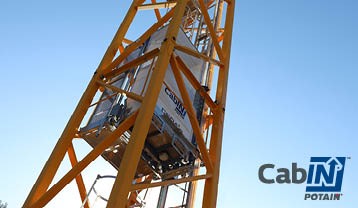 The new Potain cranes operator lift is the most cost effective operator lift option. The drive unit lifting speed is up to 24 m/min, with 200 kg load capacity. The Cab-IN is compatible with all Potain K mast compositions. The safety features include Access gates on departure and arrival, fencing door for departure and landing gates, Up and bottom sensor, on the cab for operating safely, 360° visibility for masts inspection and drive unit maintenance from the operator lift cab.
The New CCS Range
CCS stands for Crane Control System, a revolutionary control command system on Potain selected tower cranes. The CCS makes the communication between Man and machine more efficient and standardized on all machines in this new range. The load curves have increased allowing maximizing lifting capacity and allowing for more flexibility on job sites, set-up time to put the tower crane in service has been reduced significantly to 15mins. Higher safety levels are guaranteed under CCS.
Some key technical solutions and benefits under CCS include:
- Potain Plus function: CCS in general increases the load chart with the maximum speed potential; with the P+, the load chart is increased even further
- Speed Limiter function: Adjusts the speed for all crane motions by an increment of 25%
- Power Control: Supplies power to the winch and reduces the power required by the crane, saving energy and allowing for more flexibility.
- DVF Optima: Trolley speed optimized with the load for higher efficiency.
- Zone Control System: Integrated directly within the CCS, allows to create a forbidden area in the crane's work radius to ensure more safety on the job site.
- Top Tracing III: integrated anti-collision system that can monitor up to 16 cranes for intrusion. The full screen allows for a more comprehensive view of the crane and its surroundings.
- CCS Cabin: the new cockpit under CCS has the existing features of the Ultra View cab, but with more comfort and visibility, a new sensor to detect the crane operator's presence on the seat, ultimate operator ergonomics as all commands can be done from the joysticks and with customization mode and Jog Dial for trouble-free navigation on-screen.
- Crane Configuration Optimizer: Calculation of each crane component and combination allowing for better adaptation, and to maximize transportation and logistics.
- CraneSTAR: Data management providing real time information on work settings, maintenance, lifting programs and more. This information can be accessed remotely from any computer.